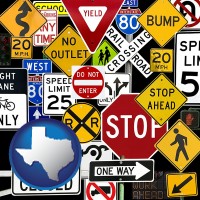 While we understand that many of our Residents may find the need to park in the street on occasion, we would like to remind the Community that these vehicles must follow Texas parking laws, as well as your Community Deed Restrictions.
Please keep in mind that disobeying parking laws can not only land you a parking ticket or fine, it can prevent our trash service provider from getting down streets for pick up, and most importantly, prevent emergency vehicles from getting to their intended call destinations.
Please take a moment to review these important parking laws for the safety of our Residents; be aware that these laws apply to cul-de-sacs, as well as straight-of-ways:
Double parking is not allowed; this is when you place your vehicle on the roadway side of another vehicle that is at the edge of a road or curb.
You are not allowed to park your vehicle in the crosswalk, sidewalk, or within an intersection.
You must maintain the following distances from the described below:
When parking against a curb, you must park with your right-hand (passenger) side wheels within 18 inches of the curb.
Cul-de-sacs are two-way roadways, which means motorists are required to park with their vehicle's right-side wheels parallel and within 18 inches of the roadway curb or edge.
In addition, please be aware that our Constables can, and will, ticket vehicles with no or expired registration tags. Vehicles deemed inoperable by our Constables can also be towed from the Community at the owner's expense.
Let's keep our streets safe, and our vehicles in good repair!