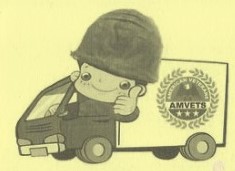 AMVETS needs your unwanted small household items and clothing – Friday, August 2, 2019
Good Morning Lancaster,
AM Vets is a 501(c) service organization that will be in our Community Friday, August 2, 2019. They are asking for donations such as:
men's/women's clothing (all types and sizes)
children's clothes (all types and sizes)
bedding and draperies
houseware and glassware
small appliances and laptops
usable furniture
tv's and monitors – LCD, LED only please
While they do accept furniture and mattresses that are in good condition, they ask that you call 713-948-2888 for pickup of these larger items.
It's an easy way to get rid of items you may no longer need, that will benefit others. To donate curbside, please use these steps:
Place your boxes or bags clearly visible from the street by 8:00 AM on pickup day (August 2, 2019).
Attach the flyer in the attachment of this email, or a sheet of paper marked "AMVERTS" to your donation.
Relax! Your donation will be picked up, rain or shine, between the hours of 8:00 AM and dark. Driver will leave a tax receipt.